Meet our Artists
Click on a category to limit your view to artists who work with that art form or audience type:
Charlie Maguire | Music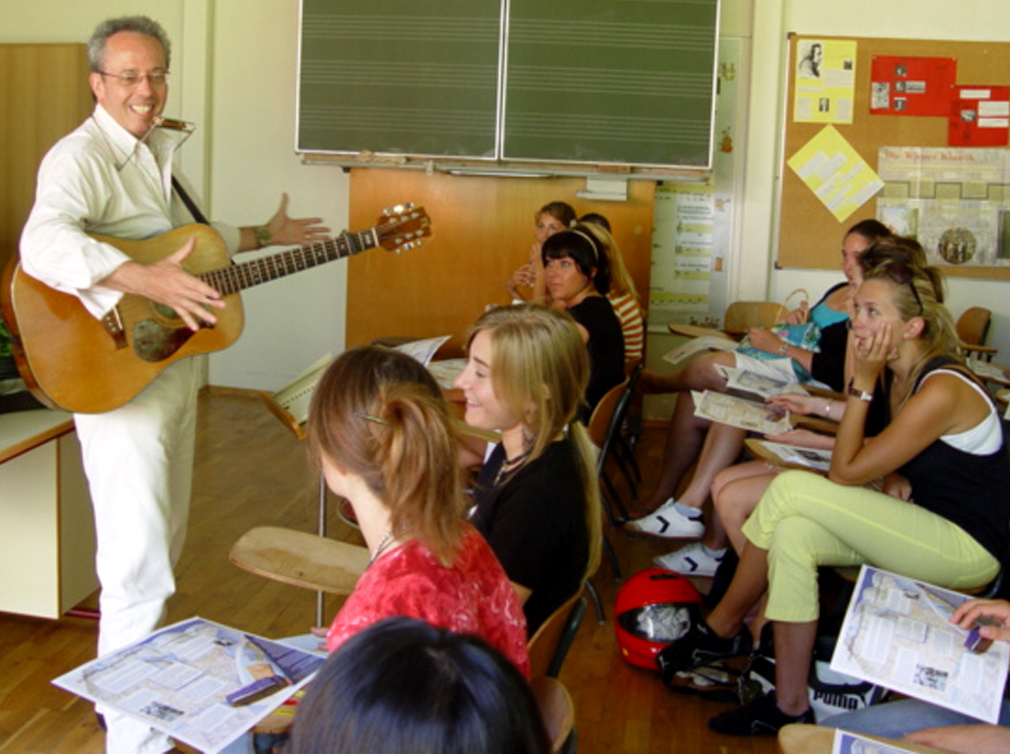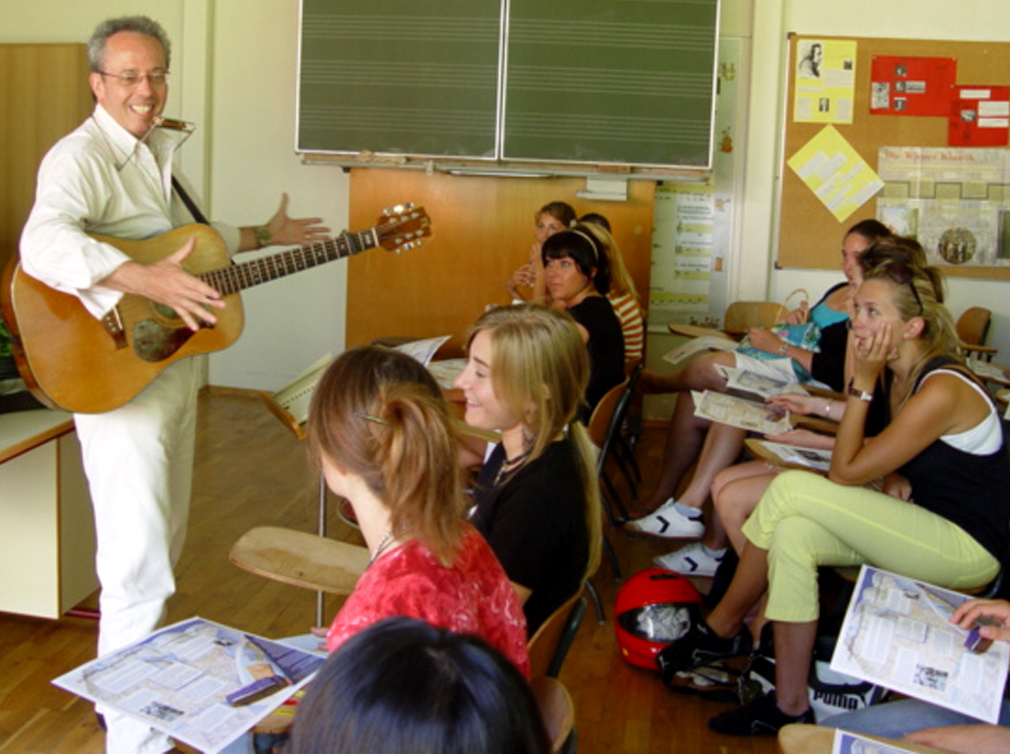 Charlie Maguire | Music
"Charlie is patient with children and takes the time to listen to them share their connections with the music and tell their own stories. He allows students to see themselves as entertainers by showing and sharing the gift of music with others by using their voice and heart." -- Mr. Terrones, St. Anthony Park Elementary School
Charlie is completely self-taught on guitar and various other folk instruments. He grew up in New York and at the age of 13 started his guitar "lessons" when he purchased a how-to book in a drugstore. After college, he was mentored by Pete Seeger, Lee Hays ("If I had a Hammer") and Don McLean, who taught him that being a songwriter and musician was not only rewarding, but absolutely possible.

He met Garrison Keillor in 1974 and performed on "A Prairie Home Companion" for nine years. Other rewarding and exciting experiences followed: Centennial Troubadour for Minnesota State Parks; the Singing Ranger for the National Park Service; and appearances on "Good Morning America," "All Things Considered," and "As It Happens," to say nothing of awards ranging from a Bush Fellowship to the New York Film and Television Festival.
Charlie has been honored with multiple grants and awards, including a Bush Artist Fellowship and the New York Film and Television Festival Gold Award. He has been named a "Humanities Scholar" by the Minnesota Humanities Commission. He is also an adjunct professor of Language Arts at Hamline University in Saint Paul, teaching a songwriting course. He has been a writer for the Star Tribune (Minneapolis) and for All Things Considered and Options in Education, both on National Public Radio.

Learn more about Charlie in his January 2016 Artist Spotlight Interview.
Sample Programs: Customizable To Site's Needs
Residencies
Songwriting
Once the topic of the class songwriting activity is chosen, Charlie works with every student to write the new song as a group. Charlie has written over 900 songs with children as part of the COMPAS residency program. Once the topic for the class songwriting activity is chosen, Charlie works with every student to write the new song as a group. When the song is finished (usually in 2-3 class visits) Charlie then helps the class arrange and perform the song on the last day of the residency. Everyone can contribute a word or phrase, and they can bring in instruments to play along on the song from home. Every kind of participation that enhances the song is welcome. It is truly amazing and wonderful to see the song grow and take shape, and to see each and every student having a part in it. What makes Charlie's approach so special is that he understands what each child is going through as they work hard for just the right word or phrase. He celebrates their creative efforts, and captures exactly what they want to say and project in the writing and performance of their new work.
Lasting memories are created for each student after just a week with Charlie. He has received many messages from former students (who are now adults) thanking him for his time with them. Many, if not all of these messages include the fact that these former students can still remember and sing the lyrics to the song they wrote even after 25 or more years.
"What My Eyes Have Seen" includes the creation of a totally original song (words & music) and the creation of individual works of visual art. Performer/composer Charlie Maguire has worked with seniors, adult day care, and adult memory loss centers since 1976. The Wilder Foundation, Courage Center, and innumerable nursing home and assisted living situations throughout Minnesota, Iowa, Wisconsin and Illinois have counted on Charlie's songs and stories—with guitar, jaw harp and spoons—to bring joy, enrichment and comfort to their clients.
Charlie's proposed project is in two parts. The first part is the creation of a totally original song (words & music) based on the contributions of the group. The second part is the creation of individual works of art in the form of cardboard eyeglasses (which are colored and then worn) based on what each person wants the world to see about themselves. Photographs are taken of each work being worn, with interesting and exciting results for client and staff members alike. Some photographs are later worked into a montage by Charlie which is suitable for display after the residency is over.
Note: Materials and mileage costs may also apply.
Performances
Pastures of Plenty: Woody Guthrie's Life & Times
This presentation will include some of Woody Guthrie's best-loved songs, and also some of his best least-known material! Supplemented with short readings from Woody's own prose works, audiences will find a new appreciation for the great American balladeer. Inspiration to countless folk musicians, From Oklahoma, Woody Guthrie was a songwriter, poet, graphic artist, novelist, adventurer, and raconteur, his days forged by the highways, and the people and places that he saw.
One of Charlie's mentors was Woody's wife Marjorie M. Guthrie, and he was also schooled by mentor and songwriting partner to Guthrie, Lee Hays. Performed as a one-person show, "Hard Traveling" features Charlie Maguire on guitar, jaw harp, harmonica, and spoons. Minneapolis Star-Tribune music critic Jon Bream says of Maguire's Guthrie lore; "Unless Bob Dylan were to crash the party, you could not find a more apropos Minnesota musician to celebrate Woody Guthrie".
*Running time: Approximately 75 minutes, BUT we can customize this show just for you!
*An album featuring Charlie Maguire singing Woody Guthrie entitled "Woody Reflected" is available from WagMag Music.
Woody Guthrie's Bound For Glory
Woody Guthrie (1912-1967) America's prophetic and enduring songwriter of a 1000 songs including This Land Is Your Land, did not limit himself to pencil and guitar. He was also pretty handy with a typewriter too. Working on his first book (the only one published during his lifetime) Guthrie turned out hundreds of single-spaced pages which became Bound For Glory. Published in 1943, the book is part autobiography, part social justice commentary, and one of the best siren songs for traveling musicians ever written.
Charlie who is a lifelong Guthrie follower, brings you an hour of Bound For Glory. With Woody's great songs (Hard Traveling, The Government Road, Over The Waves And Gone, So Long Its Been Good To Know You) interspersed with short pithy passages from Bound For Glory, audiences will come to know and appreciate this book which in 75 years has never been out of print.
Songwriting Sleuth: Charlie Maguire Sings Gripping MINNESOTA Tales!
Who saved countless people from the horror of the Hinkley Fire? How did it feel to be on a sinking frozen ore boat just yards from shore in Duluth during the Mataffa storm? What was it like to lead over 50 African-Americans out of bondage in the largest mass escape in the history of the Civil War? What woman was held at gunpoint trying to save Minnesota's first State Park, and why?
"Minnesota's Songwriting Sleuth" Charlie Maguire has the answers to these and more stories in gripping songs and ballads he has researched meticulously over the years. Indeed, researching and writing hitherto unsung stories of ordinary people doing extraordinary things when faced with a crisis, is one of the major contributions Maguire has made to the lexicon American folk song. Charlie has unearthed these true tales not only for his own curiosity, but also for the Minnesota Department of Natural Resources, the National Park Service, and the Smithsonian Institution. Pete Seeger said of Charlie's work; "Your songs are damn good, and so are you!" The Winnipeg Folk Festival calls Charlie "A legend in the Midwest…" There is more to Minnesota courage than Charles A. Lindbergh! Find out who the others are, and hold onto your chairs!
*Running time: Approximately 60 minutes BUT we can customize this show for you!
*Albums featuring Charlie Maguire singing his "Gripping Minnesota Tales" are available from Mello-Jamin Music.
Workshop
Twang! Learn to Play the Jaw Harp!
An excellent companion piece to the Woody Guthrie performance! Small, cheap and easily carried, the jaw harp, also known as the "Jew's Harp," or, by its ancient name, the "trump," has been played for centuries and is known throughout the world. Some cultures use the jaw harp to dance, others to entertain, still others in courtship and dating! Through the application of three simple steps, up to 25 students become proficient in 45 minutes and will also learn two songs to entertain their family and friends. The presentation ends with an informal group concert that never fails to gain an audience!
Note: Jaw harps are required and are available for a nominal fee.